History and Information
Zac and Nate Scott are the brothers that started this company. In 1999. they formed Ice-O° Metric Contracting after several years working on industrial construction projects. Zac and Nate were convinced they could provide better, faster service, and a broader range of facility products than competing firms.
Together, they have built a reputation for getting tough projects done – on time and on budget, without interrupting their customers' business operations.
Over time, Zac and Nate's repeat customers continuously called on them to complete jobs that other contractors could not finish or were unwilling to even start.
This is why Ice-O°Metric  "SPECIALIZES IN CHALLENGING PROJECTS"
i·so·met·ric 
Pronunciation: "I-so-'me-trik
Function: adjective

Of or exhibiting equality in dimensions or measurements.

Of or involving muscular contraction against resistance, usually a stationary object.
What About the Name Ice-O° Metric?
This was our first challenging project. We thought, "How do we convey our special knowledge of coolers, freezers, and insulated panel products?" "How can we simply and elegantly say our work is functional but looks good, too?" "How could we succinctly say we are above every other commercial builder with large and small project experience?"
We needed to not only answers those questions, but we also needed a name that says "We like cold stuff. We move heavy things."
This is how the name Ice-O Metric was born. Remember Ice-O Metric Contracting for your next special project. We'll keep you running.
Hours:
Monday 7AM—5PM
Tuesday 7AM—5PM
Wednesday 7AM—5PM
Thursday 7AM—5PM
Friday 7AM—5PM
Saturday Closed
Sunday Closed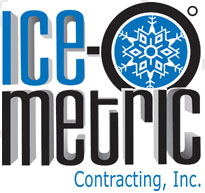 Address:
16905 197th Ave NW
Big Lake, MN 55309